Could two dogs be better than one
A dog is a man's best friend, but should you have more than one? Dogs are an incredible tool in fieldsports and serve a purpose that naturally, humans would struggle with. Trudging across cover or trying to fish a bird out of a river doesn't appeal to me. However, looking at the face of my lab when he sees a bird head for either he's more than up for the task. For me, it's just the one dog who does a great job although the thought of two dogs does appeal to me.
There are also drawbacks that should be considered. Double the dog beds, twice as many food and water bowls and double the trips to top them up. This is before the dog hair that already takes an age to clean up. To counter this though the benefits are numerous. In the field, my dogs only has one set of eyes and one body to take around picking up. For pigeon shooting its so bad as the flurries come in drips and drabs. Although, there have been times where the dog out there picking up a couple of birds and has pushed a flurry away.
The benefits become a little clearer when you look at the pros and cons of your current dog. For my situation, my lab has great energy but has some reluctance for deep cover as he looks back for more reference for directions. So while looking for a second dog id definitely consider a small breed or a smaller lab. I'm not quite sure I'm ready for the wild spirit of a spaniel or the outright pace of a pointer.
Reading this article I think I might be converted. Gundog magazine makes a great point of working your dogs within your limits and using another dog to supplement their shortcomings. Having two dogs might also take some of the burden off and give your dogs mote time here. Also, through whatever injuries you can rest a dog rather than rush a dog back to health. The two dogs can also learn from each other if you're introducing a pup to an older dog. The pup can pick up a lot of what should be expected of them hopefully shallowing the learning curve.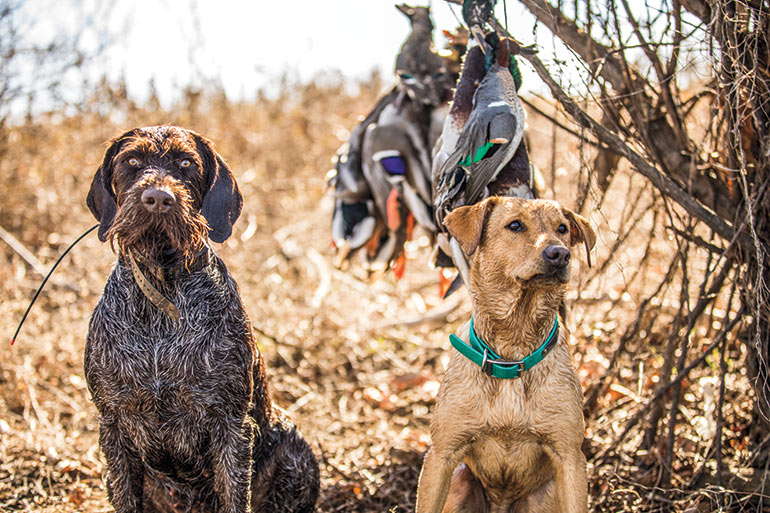 To read the full article from Gundog Magazine please click Here